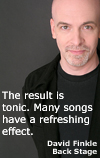 A number of MLP regulars have appeared on David Kenney's wonderful weekly radio show, Everything Old Is New Again. The show is broadcast locally on WBAI, 99.5 FM, and airs Sundays, 9:00-11:00 PM.

Visit the show's Web site to see what's coming up this Sunday. And while you're there, visit the Everything Old Is New Again Message Board to voice your opinions, learn something new and make new friends.
Writer/Director Gerry Geddes has spread more cabaret joy than most in his extensive career.

To learn more about what he's up to, visit Gerry at his home on the Internet, gerrygeddes.com.
| | |
| --- | --- |
| | Something new is always in the works at the Helen Baldassare Cabaret Performance Workshop. Click here for more information, to get the latest performance schedules, or to find out how to register for the next semester. |
| | |
| --- | --- |
| | Miranda Music has a fine catalog of CDs available online. You'll find recordings by Karen Oberlin, Berri Blair, John Wallowitch & Bertram Ross, Michael Ferreri and Christopher Gines. Click here for complete information. |
Sue Matsuki's CD A New Take has earned high praise from press and fans alike, and has helped make Sue one of the busiest performers we know.

Take a quick trip to Sue's website to find out where you can find her these days. And while you're there, order yourself a copy of her CD, which features Gregory Toroian (piano), Ned Mann (bass),
Ronald J. Tierno (percussion), Bob Kindred (tenor saxophone), Gene Bertoncini (guitar) and Chris Hajian (trumpet).
Lynn DiMenna's new CD Sweet & Swing was released in May with a celebration at Swing 46, a fitting venue for this fine recording. Lynn worked with musical director Paul Greenwood and shared the stage with the same group of all-star musicians who are heard with her on the CD.

Lynn has crafted a collection of standard tunes that are sweet and swingin' in equal measure, and we're happy to have her join the MLP family of musicians. We're also proud that Lynn chose us here at MLP to design the graphic elements of Sweet & Swing. The CD is available at Amazon.com and CDBaby.com. You can learn more by visiting LynnDiMenna.com
Many of our readers saw New York-based Norwegian bassist/composer Eivind Opsvik perform at Don't Tell Mama in the fall of 2002 with singer Frank Fontana and music director/pianist Wells Hanley. Yet many may have missed the release of his debut CD OVERSEAS on Fresh Sound Records.

If that's the case, click here to visit Eivind's Web site, then follow the links to the article in JazzTimes magazine and the CD's spectacular reviews in The New York Times and Downbeat magazine. Or proceed directly to Tower Records to get yourself a copy. We highly recommend it!
Soprano saxophonist/composer Jane Ira Bloom has just released her newest CD entitled Chasing Paint: Jane Ira Bloom Meets Jackson Pollock. The recording also features Fred Hersch on piano, Mark Dresser on bass and Bobby Previte on drums.

Jeff Simon of the Buffalo News said, "If Pollock could come back to life one night and hear Bloom play, I think his furious, questing heart would melt."

Click here to find out more.
| | |
| --- | --- |
| | Time Out New York called him a "Funny, sassy singer-comic." In The New York Observer, Rex Reed said "...he's a breath of fresh air." And if you missed his record-breaking run at Arci's Place, fear not: you can catch his act on his new CD Jim Caruso: Live and In Person. |